The very first time I met Spike Milligan, he brought a very old audio tape round to my house in Eastbourne .
"This is a tape recording of my father singing. But his voice sounds as though his balls have been caught in a rat trap …. can you sort it out?" he asked.
Over the years I came to rescue many other old tapes for him – most of them of impromptu musical performances and personal family recordings.
We visited each other many times over the years – Spike lived quite near to me in Rye, Sussex.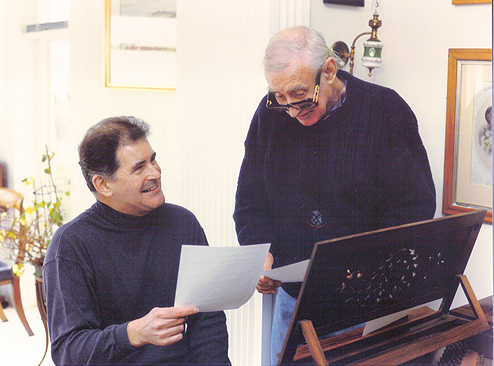 Despite his reputation for sometimes being "difficult", Spike and I got on extremely well together and had many long conversations about families, politics, religion and life in general.
As a composer and musician, I was constantly on the look out for inspirational subjects.
I delved into Spike's poetry and found some wonderful gems and asked him if I could set some to music. He readily agreed and I set to work.
As each piece was finished, I would visit Spike to obtain his approval and play some of the themes on his old Broadwood grand piano.
A year later,  I completed twelve compositions – a mixture of serious and lighter pieces to compliment his poetry.
We discussed the idea of a theatrical performance with a small orchestra playing my music while Spike read the poems live on stage as an integral part of the compositions.
Spike was very keen on the idea. He told me that when he originally wrote the poems he had no inkling that someone would want to set them to music one day. The performance was held in 1996 at The Congress theatre in Eastbourne.
The recordings on the tribute album on this website are from the rehearsal cues made at Spike's house. They were made prior to the performance and have been re-mixed with the original music.
This album  has a very intimate feel and it includes some previously unheard recorded anecdotes and jokes.
I had the great privilege of knowing this man and I still maintain the great feeling of respect and affection that I had for him back then.
Paul Neville – 2013